Nachi SS-G03 Series Directional Control Valve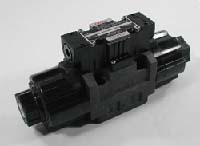 Wet type solenoid valve.
Very long life.
Low switching noise, quiet operation.
High pressure, large capacity with minimum pressure loss.
Expanded wiring space ensures easy wiring.
Recognized by reliable overseas safety standards such as CE (Europe), UL (U.S.A.) and CSA (Canada).
Need this part fast?
Contact our sales department and speak with our specialist Now!